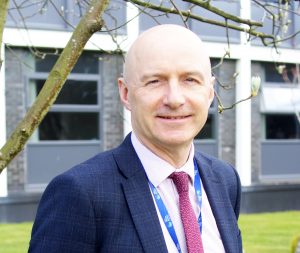 We are delighted to share the news that Simon Taylor, CEO of The Three Rivers Learning Trust, has been awarded an OBE in the New Year Honours List.
The OBE is an award in the category of: The Most Excellent Order of the British Empire. The award goes to someone who exemplifies large contributions to the arts, sciences, charitable works and public service.
Initially beginning his career in education as a history teacher in 1985, Simon Taylor has since held several senior leadership positions in secondary schools before becoming Headteacher at The King Edward VI School in 2007.  Since 2018 Simon has served as CEO of The Three Rivers Learning Trust.  He has also been a National Leader of Education and a Northumberland School Improvement Partner, working with a number of schools in the area, helping to support school improvement.   
"I feel very humbled and proud to have received this honour.  I have worked with so many hardworking and talented colleagues, who make a difference to the lives of children and young people on a daily basis.   I would like to dedicate this award to those I have worked with, in appreciation of their support and dedication."
With a total of 38 years experience in working with schools across Gateshead, Newcastle and Northumberland, Simon was contacted by New Years Honours list at the end of 2022 to receive the great news.
Clare Savage, Headteacher commented "Colleagues, students and parents are all delighted to hear this fantastic news and are thrilled that Simon has been honoured for his outstanding services to education across the North East. I have worked with Simon for the past 15 years and his commitment to the education of the young people of our region has been an inspiration to all who have had the privilege of working with him."